Laimz Casino Latvia 🇱🇻 🍋

Laimz Casino 🍋 is a vibrant newcomer to the Latvian gambling scene. It kicked off in March 2020 and has been sprucing up the industry with a novel approach ever since. Despite its fresh status, it's got the muscle behind it in the form of a license from the Lotteries and Gambling Supervision Inspectorate. That's a reassuring safety net for those concerned about legitimacy.
It's also linked to the renowned Optibet online casinos, signaling that the platform isn't just legit, but a dependable platform too. If you strike it rich, don't sweat it, you'll bag the full payout! 😎💰
Once you land on the website, you're greeted by a playful blend of white and purple hues, like a cotton candy dream. The website is dressed up with cheeky fruit mascots, spearheaded by a lively lime from a traditional video slot. You're not on this journey alone, though! His pals Lauris, Anna, Inga, Max, and Zerro will guide you through the kaleidoscopic world of gaming, rewarding you with generous bonuses and gifts along the way.

The main menu, housing tabs for the Casino, Live Casino, Bingo, and Promotions, is neatly tucked away on the left-hand side. Meanwhile, the game category selection panel sits proudly at the top of the page, ensuring easy access to your desired game. The layout prevents new users from feeling overwhelmed.
While this might be a Latvian brand, they've got an international mindset. The interface is available in both Latvian and Russian. But when it comes to currency, they're all about the Euro. No fussing with exchange rates or conversions here! Remember, gamble responsibly, and have fun! 😊🍋🎉
Let's dive deeper into Laimz Casino's offers and explore the benefits and opportunities it offers its players.
#
Casino
Rating
Bonus
Licence
1

Laimz Casino

⭐⭐⭐⭐⭐

Accepts players

Register
Bonuses and VIP Program 💎🍋
Alright, team, let's be real—who doesn't love a good bonus? 😉 It's like the cherry on top of your gaming experience. And it looks like Laimz Casino knows how to dish out some pretty sweet deals. So, let's dive in, but remember, the devil is in the details! You can always find the most updated details right on their website.
The Grandest Welcome Bonus in Latvia! 🎉
The casino doesn't just give you a welcome; they roll out the red carpet! Their starting bonus breaks away from the standard mold by offering not one, not two, but three whole bonuses. Yeah, you read that right, three bonuses! 😱
Let's go over the ground rules:
This bonus is exclusive to your first deposit post-registration.
The minimum deposit needed to unlock this bonus is €20.
Once the deposit is made, head over to the "My Bonus" page, select the "SLOTS" bonus, and click "GET".
Doing so gets you 200 Winspins, 50% insurance for your casino game (capped at €200), and 7 days to make the most out of it.
Sounds interesting, right? So what do these bonuses entail? Let's take a closer look. 🍋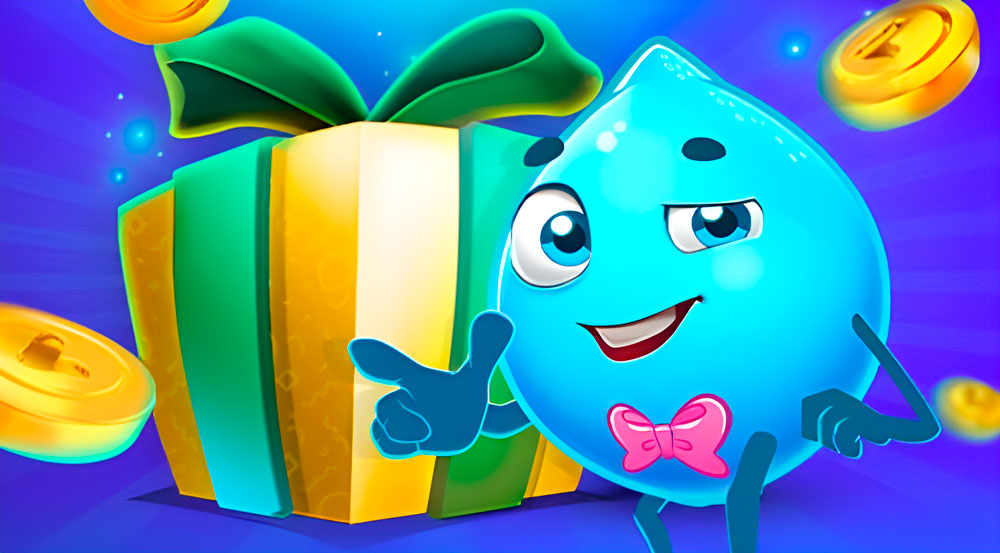 Thursday Surprises 🍋
From the time of your first deposit, Laimz sends a surprise gift your way every Thursday for a month. The catch? You won't know what's inside until you open it! It could be free spins or a deposit bonus—either past or future. These gifts will be delivered right to the email you used to sign up. Remember, the more active you are, the more enticing the gifts become!
200 Winspins 🍋
The second part of the welcome bonus promises an opportunity to score 200 free spins on a select list of slot machines. But, it's not a guarantee. To bag all 200, you'll have to meet certain conditions:
After activating the "SLOTS" bonus, you'll receive 50 Winspins, each worth €0.10.
If you reach a turnover of €200 in slot machines within the first seven days, you'll be granted an additional 150 Winspins.
The list of eligible games for Winspins is quite extensive, featuring titles like Who Wants To Be A Millionaire, Starburst, and Book of Ra Deluxe, among others.
Loss Insurance up to €200 🍋
Finally, the third part of the welcome bonus is a safety net – insurance against potential losses. We all have those unlucky days, and having insurance in place can provide some solace. Plus, knowing that part of your funds is safeguarded can add an element of comfort to your gameplay.
Here's how it works:
This bonus covers all slot machines on the casino website.
If you're at a deficit within the first 7 days (total winnings minus total bets), you'll receive a 50% refund on your losses (up to €200).
The refund will be processed on the eighth day after receiving the "SLOTS" bonus.
Overall, Laimz Casino's welcome bonus appears quite appealing, with a unique blend of offers aimed at boosting your gaming adventure. Just remember, bonuses are fun, but always read the terms and conditions! 📝
Loyalty Program 💎🍋
So, Laimz introduced a loyalty program on September 1, 2022. Basically, it's like a little pat on the back for being an active player—you get some cash back in your gaming account every week. Pretty sweet deal, huh? 💸
Now, how does this work? Simple: you earn points for every bet you place, every spin you take, and every deal you make (sounds like a song lyric, doesn't it? 🎵). As you accumulate points, you can climb up the loyalty level ladder and get some serious cashback every Monday. The number of points you get per spin depends on your level, with the calculation going like this: bet amount * your level multiplier * game multiplier. Here's the rundown on game multipliers:
Slots = 1x
Blackjack, Baccarat, and Video Poker = 0.2x
Each point you earn nudges you closer to the next level. 🎮⬆️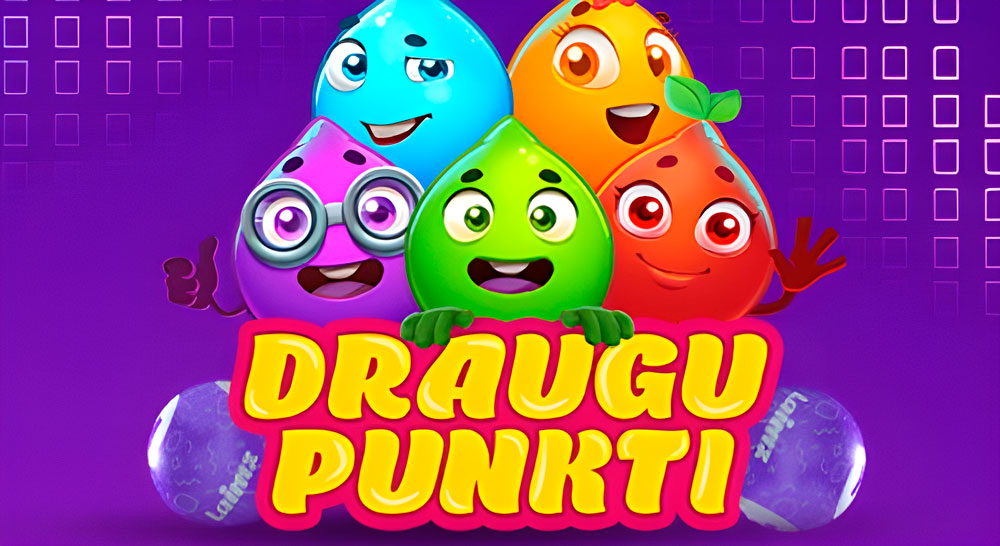 Now let's talk levels. Be aware that your level is recalculated at the start of each month. If you've gathered enough points to keep your level, you're good. But if you haven't, down one level you go! (Cue sad trombone sound 🎺😔).
Here's how the levels break down
| | | | |
| --- | --- | --- | --- |
| Level | Points needed | Amount of points needed to stay on level | Multiplier |
| Level 0 | 0 required points | 0 points to stay | 0.5x multiplier |
| Level 1 | 100 required points | 300 points to stay | 1x multiplier |
| Level 2 | 1,000 required points | 3,000 points to stay | 1.5x multiplier |
| Level 3 | 10,000 required points | 30,000 points to stay | 2x multiplier |
| Level 4 | 100,000 required points | 300,000 points to stay | 3x multiplier |
| Level 5 | 1,000,000 required points | 300,000 points to stay | 4x multiplier |
Other Bonuses 🎁🍋
Our team noted during the review period that this casino was running a few intriguing promotions. These might have shifted by the time you read this, but no worries, they're always coming up with new ways to keep things exciting! 😎
Laimz Casino Bonus Festival: When we checked, June was a festive month over on the platform. Players could grab a new task daily and work towards hitting a turnover goal. Success resulted in a nice cashback or WinSpins bonus. Pretty cool way to heat things up for summer, eh?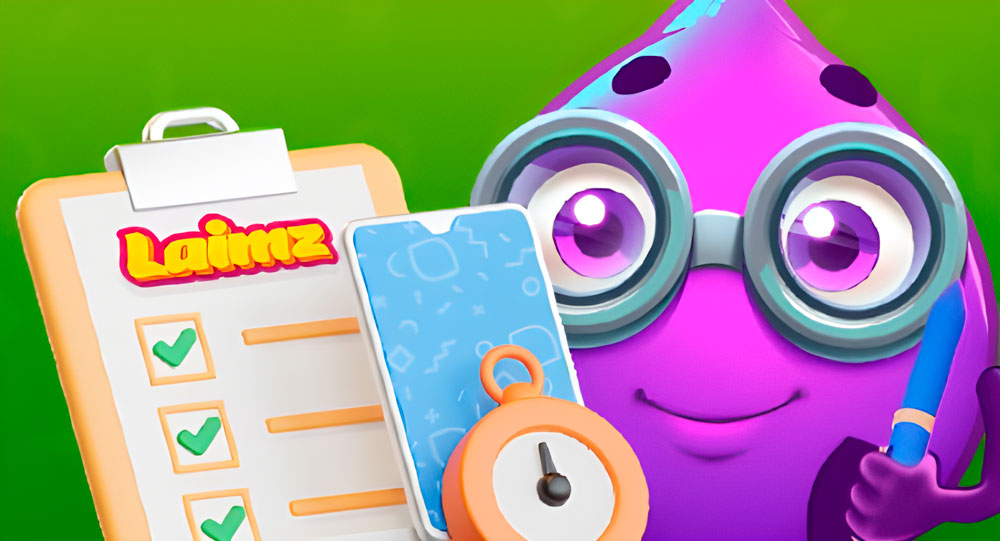 The Weekly Top Pick from Lauriz: During our review, Lauriz had an intriguing offer going on. A one-time deposit of €10 got you 20 WinSpins valued at €0.20 each, every day. Now, that's something to spin about!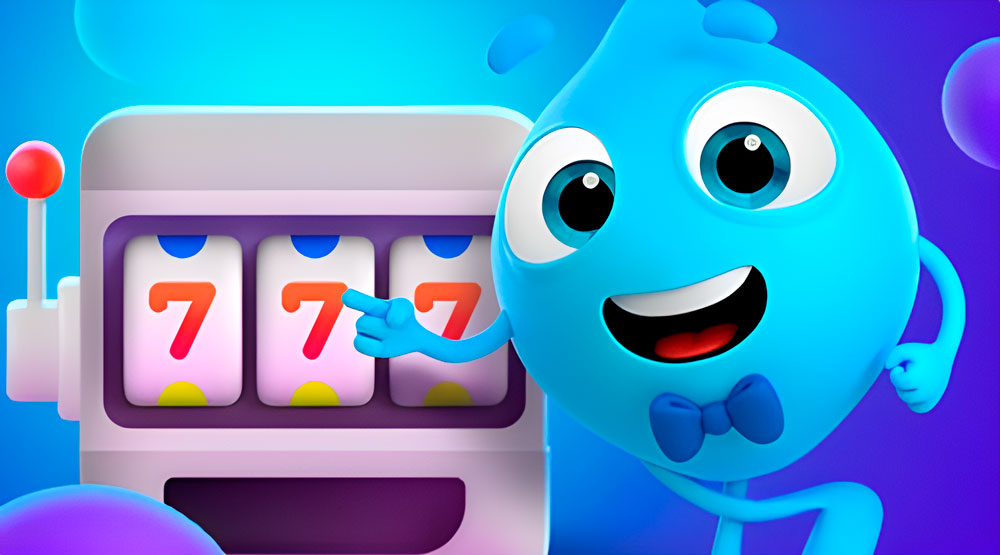 Weekend Live Casino Cashback: The live casino at Laimz was the go-to spot for a chilled-out summer weekend. Playing your favorite live games over the weekend offered a safety net. Even if Lady Luck didn't smile at you one day, you'd get a 10% refund on Monday. Not a bad deal at all!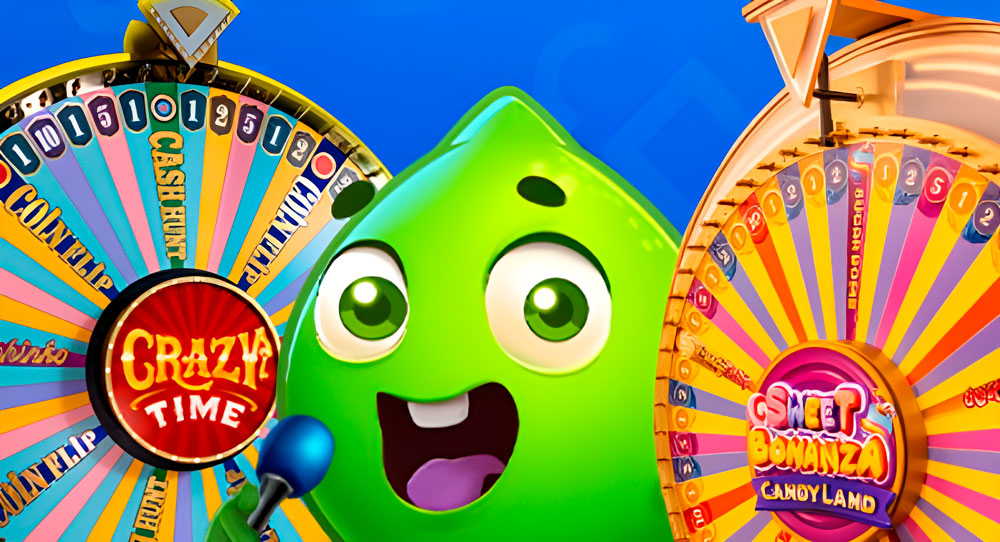 Spinomenal Slot Offer: Lastly, the casino was giving slot lovers a real treat. Spinning on Spinomenal games after joining the offer could net you loads of WinSpins once you reached the turnover thresholds.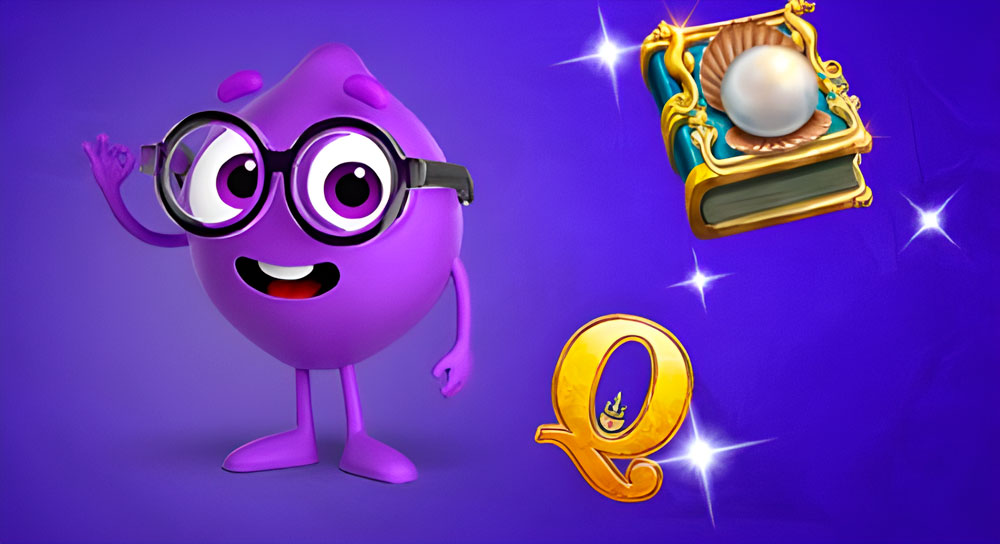 Remember, these were the promotions at the time of writing. Laimz seems to be always cooking up something fun, so keep an eye out! 👀
🍋 More info: https://www.laimz.lv/promotions
Games and Games Software 🎮
The platform showcases an impressive catalog of games that are bound to satisfy everyone from novices to seasoned gamers. With a stockpile of approximately a thousand games, including jackpot slots like 100 Cats, Divine Fortune, and Joker Jackpots, there's ample room for variety and high-stakes fun.
One unique feather in Laimz's cap is their status as the first Latvian casino to bring bingo to the table. A perfect fit for the diversity of players that visit this platform! 😄🍋 And what about the folks who yearn for a real casino atmosphere but just can't spare the time? The casino has a solution: their Live Casino section, powered by Evolution Gaming. With multiple table options, croupiers, and playing limits, it's a truly immersive experience.
The game developers associated with Laimz are no joke, either. With a litany of top-notch names, such as BTG, Elk, iSoftbet, NetEnt, Play'n GO, and Evolution Gaming, among many others, you can be confident about the quality of the games.

Navigating the game lobby is a straightforward task, thanks to their easy sorting system. Sort games alphabetically, by manufacturer, or pop them into ready-made sections like "popular" or "favorites." And if you've got a specific game in mind, the search function makes finding it a breeze. The game categorization at Laimz is equally user-friendly. You can explore options through categories such as Popular, New, Books, Megaways, Jackpot, Roulette, Card Games, Bingo, and Game Shows. It's a well-organized approach that helps you find your preferred gaming flavor.
In keeping with contemporary trends, all games are run on the HTML5 platform. You don't need to download any app—just log in from your mobile device's browser and start playing. It's really that simple! 📱

Slots 🎰
First up, you'll find an impressive arsenal of over 800 slot games sourced from 32 different developers at Laimz. The big industry hitters are well represented – think Microgaming, Novomatic, Play'N Go, Playson, and BTG. Filter your search by the provider or check out the collections of Popular, New, Book games, and Megaways. If decision fatigue hits, no worries – just head over to the "Promotions" section, where there are always a bunch of tournaments and special offers on games from certain suppliers.
Book Games: this section offers about 60 varieties of games all based on the beloved genre. From the classic Book of Ra to the swashbuckling Books & Pearls and the festive Cocktail Book, there's a narrative for every player. Despite the seemingly similar concept, each game packs its own personality.
Megaways: this section offers 124 cash game opportunities. Step into their expansive library of these slot games with enormous pay lines for a thrilling ride!
Jackpot: who doesn't love the sound of the word "jackpot"? It's the magic word that can turn your world around! At this casino, players can access 98 slot machines that could be their golden ticket.

Table Games ♠️
While Laimz Casino's selection of classic table games may not be as vast as their video slots, they still offer a neat collection. All available products are divided into Roulette and Card games – featuring several variants of blackjack, hold 'em, and baccarat. Old-school enthusiasts might want to head directly to the live casino and take a seat at a live dealer broadcast. The lineup includes:
Blackjack
Casino Solitaire
Bet the Set 21
Baccarat
Who Wants to Be a Millionaire Roulette
24/7 Live Roulette
…and other exciting games.

Other games 🎈
Fans of the ever-popular number lottery game, Bingo, will be pleased. The casino offers roughly a dozen variations of this well-known game, with each round clocking in at approximately 6 minutes. Special chat rooms are open to Bingo buffs, where you can connect with fellow players and partake in secondary chat games every evening from 7 to 9 p.m.
Don't forget to check out the site's happy hours when lottery tickets are up for grabs at discounted prices. Try your luck at online bingo and potentially rake in jackpots of up to €2,000.

Gaming Shows 📺
Ever watched Wheel of Fortune or similar TV game shows and wondered what it would feel like to participate? With the advent of online casinos, this once unattainable dream is now a reality for many. At the section of Game Show, you can experience the full spectrum of emotions that come with participating and winning, all from the comfort of your own home.

Live Casino 📡
For those yearning for the thrills of a physical gambling house, the live casino is a fantastic alternative. They feature 40 gambling games with live dealers, divided into sections of roulette, card games, game shows, and betting. The last section invites users to guess the lottery picks in a live broadcast.
The best part? Each game icon displays the minimum bet size, making it easy to choose a game that fits your budget. Watch the professional work of experienced croupiers live as you engage in games like roulette, baccarat, and blackjack. 🍀🌟

Payment and Withdrawal Methods 💸
When it comes to managing your moolah, the platform keeps it simple and hassle-free, much like most Latvian online casinos. You can deposit or withdraw your winnings using a bank card or bank link through Swedbank, Luminor, SEB, or Citadele. Deposits are a breeze, usually taking no time at all – seriously, we're talking instant here! 💨 When it comes to withdrawals, things may slow down a tad, taking up to a full day, but hey, anticipation is part of the fun, right?
One thing we absolutely love about Laimz is the low barrier to entry. With a minimum deposit of just €0.10, you can test the waters without having to dip into your life savings. Talk about a win! 😎 Minimum withdrawal amount is €5. If your bank and the casino use the same bank, your payments get a super speed boost, getting processed even faster.

And here's the best part: there's absolutely no fee for depositing or cashing out. No hidden costs to trip you up. However, be sure to meet their turnover requirement or face a small commission of 5% of the amount. For your peace of mind and security, only personal accounts should be used for transactions. If you misplace your linked card (which, let's be real, happens to the best of us), a minimum deposit from your new details will start a straightforward verification process.
Here's the nitty-gritty:
💰 Depositing
Minimum: 0.10 EUR
Timing: Instant – 15 minutes
Maximum: 5,000 EUR (Internet or wire transfer), 2,000 EUR (debit card)
Methods: BankLink (Swedbank, SEB, Citadele, Luminor, Revolut, Paysera), Payment card (Visa or Mastercard)
🏦 Cashing Out:
Minimum: 5 EUR
Methods: BankLink (Swedbank, SEB, Citadele, Luminor, and other banks)
Maximum: 100,000 EUR
Timing: Instant for Swedbank, SEB, Citadele. Up to 1 business day for Luminor and other banks.
Jumping into the Game: Registering at Laimz Casino 📝🎮
So you've decided to join the exciting world of Laimz Casino? Great choice! Setting up your account is a breeze and takes just a couple of minutes. The platform has really made it convenient for you by offering two ways to get started – either via the Smart-ID app or the good old-fashioned way of filling out a form.
Option 1: Smart-ID Application 📱
Choose the Smart-ID registration option.
You'll need to enter your personal code, email, and phone number.
Got a bonus code? Enter it here.
Give the "Terms and Conditions" and "Privacy Policy" a quick read (yes, we know it's boring, but important 🧐). Also, subscribe to the newsletter if you want to stay in the loop on all the latest happenings and bonus goodies.
Hit that "Sign Up" button. If you're going with Smart-ID, you'll need to confirm the details in the app.
Almost done! Just check your email for a confirmation link. Click it and voila! You're in!
Option 2: Classic Registration 💻
Choose the classic registration option.
Enter your email address and your super-secret password.
Got a bonus code? Here's where you enter it.
Yes, it's that time again – read those "Terms and Conditions" and "Privacy Policy", and don't forget to subscribe to the newsletter for insider news and bonus alerts.
Click the "Register" button, and you'll be directed to part two of the form.
Enter the PIN code that's been sent to your email, and fill in your personal and contact details.
And boom, you're in the game! 🚀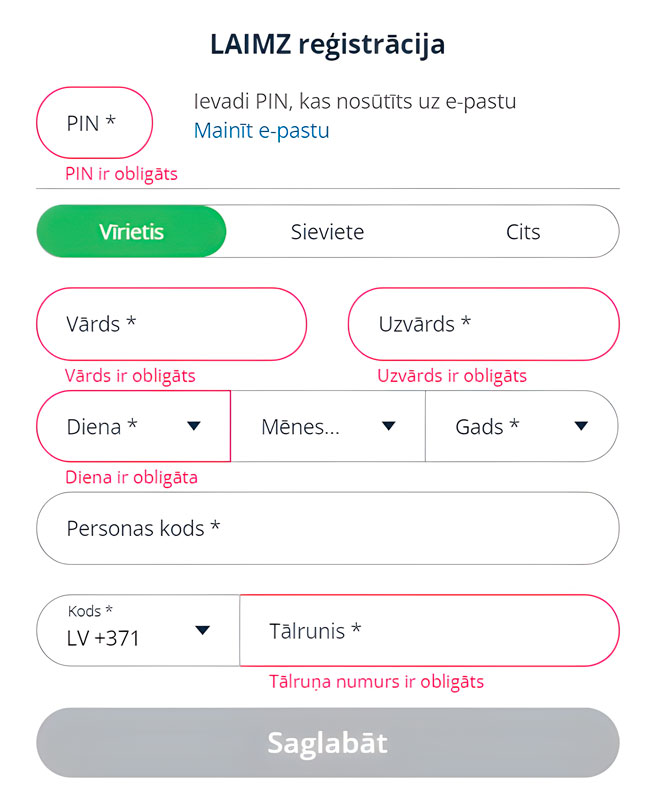 Wait, What's This About Verification? 👤🔍
Don't rush off to start playing just yet. Verification is a must-do step. Laimz is a stickler for the rules and laws governing online casinos (which we can't blame them for). Unlike some other sites, the casino requires you to confirm your identity upfront before you start playing. We actually appreciate this approach – it's better to get it out of the way instead of running into trouble later on. 🚫
In your personal space on the casino, there's a "Verification of Account" section with three options for verification:
Identity Confirmation: Here, you'll need your ID card or passport. Click "Verify" scan one of these documents and take a selfie. You can also upload the document the old-fashioned way.
Confirming Payment with the Card: Just provide a bank statement showing the transfer from your card to your Laimz Casino account. Make sure the IBAN number, bank name, full name, date, card number, and other details are visible in the PDF or screenshot. Oh, and the full URL of the site needs to be in the screenshot.
Other Documents: From time to time, the casino may need additional documents to confirm your identity, which you can upload here.
And there you go, all set to hit the casino floor! 🎲🥳

Customer Service: Here When You Need It 📞💁‍♀️
Got a question about Laimz Casino? Or perhaps a little hiccup you need sorting out? The casino's customer service is swift and effective. With a live chat available 24/7 (with a response time that rarely surpasses 30 seconds), you're never left in the lurch. Prefer to email? Just shoot your query over to [email protected], or pop a message in the online chat. The team is incredibly friendly and quick to answer any questions you have or help solve any issues.
Before you start frantically typing, though, consider taking a peek at their FAQ section 🧐. It's a gold mine of information that can clear up many common questions and confusions, potentially saving you time. It's so comprehensive that if you read it before registering, you'd likely have a smooth, question-free experience.
Mobile Gaming: Play Your Way, Wherever, Whenever 📱🌐
For those who enjoy a good game on the go, Laimz has got you covered. All their games are playable on mobile devices (Android or iPhone) and tablets – no need to download a specific app. From what we've gathered from user reviews, the casino site is a treat for the eyes and easy to navigate, no matter if you're on a computer or mobile device.
This means you can enjoy your favorite games from any device, at any time, from anywhere. How's that for convenience? 🎉 It's simple, user-friendly, and gives players complete freedom to the game as they wish. All you need is a good Internet connection and a mobile device, and you're good to roll!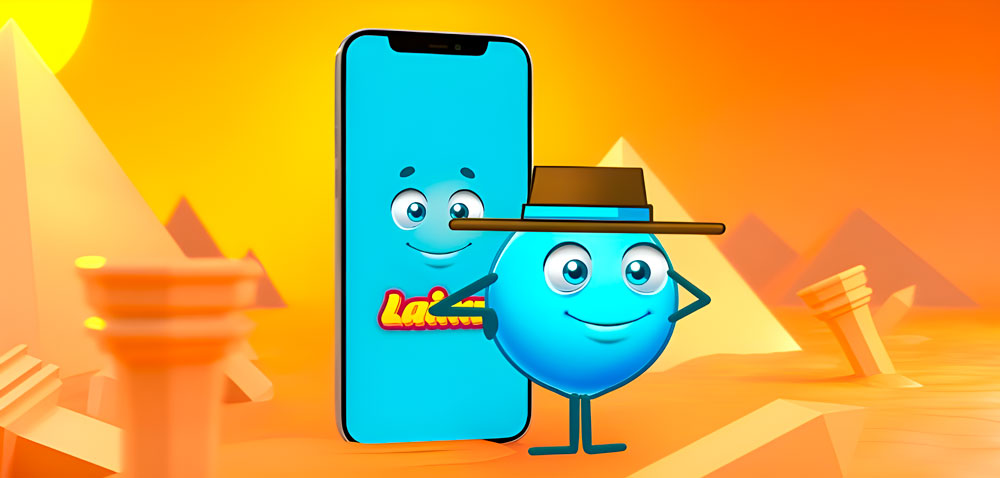 Security and Responsible Gaming 🔒💼
Operating in full compliance with Latvian law, Laimz Casino is a staunch protector of your personal data, ensuring its confidentiality and guarding against unwanted disclosure. All of your personal information is securely tucked behind a robust SSL encryption certificate. Even in the face of a cyberattack, your details remain securely locked away. If you're curious about the nitty-gritty of how the platform safeguards your security, their Privacy Policy is available for you to peruse.
All the games featured at the casino have received the green light from independent organizations verifying their fairness and safety. You can sit back, relax, and let the fun times roll without any worry about the game's integrity. And Laimz isn't just about having a good time – they take the responsibility seriously, especially when it comes to ensuring that no one under the age of 18 gets involved in online gambling. So, you must expect to go through a player identity confirmation process to keep the gaming environment safe and enjoyable for all.
Licensing: All on the Up and Up 📜👍
Laimz isn't just a pretty face – they've got the paperwork to back it up. SIA Laimz is proudly licensed by the Latvian Lottery and Gaming Control Board to organize interactive gambling in Latvia (License No. E-04; TI-12). This means you can rest easy knowing you're playing at a casino that's not just fun, but also responsible and reliable, adhering to the current regulations and standards in the online gambling market.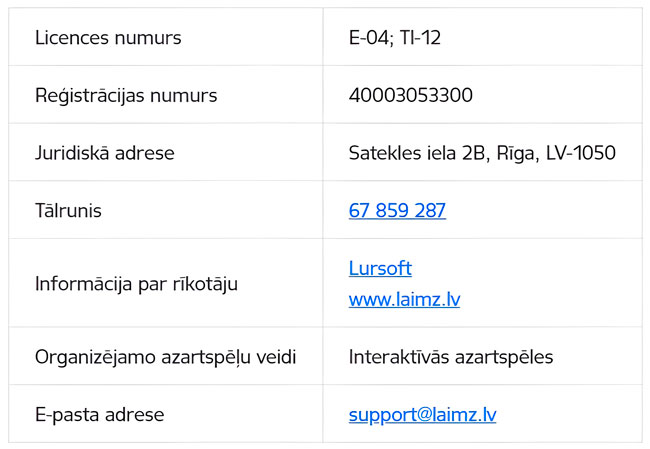 Useful Links 🔗
Frequently Asked Questions ❓
Conclusion 🍋
Laimz Casino is pretty solid as an online casino. It's got a nice variety of games that can satisfy even the pickiest of players. It's impressive to see over 800 slot games in their repertoire, plus a decent mix of table and live casino games. Props to them for working with top-notch software providers, ensuring a high-quality gaming experience.
Registration is a breeze, with options for both Smart-ID and traditional methods. We have to admit, their insistence on verifying identity before allowing play shows their commitment to responsible gaming. This isn't something every casino does, but it should be the norm.
The payment system is also pretty straightforward with a minimum deposit of €0.10 and instant processing times for deposits. Security-wise, we are impressed. With SSL encryption and a license from the Latvian Lottery and Gaming Control Board, we're talking about a platform that's clearly serious about user security and fair play.
The customer service aspect is a plus – their 24/7 live chat feature and responsive email service put them above many competitors. However, if you're not the type to reach out for help, their extensive FAQ section can prove to be quite handy.
🍋 All in all, Laimz Casino offers a robust platform for both seasoned and new players. It's not perfect, but it's doing many things right. For those who enjoy a hassle-free, secure, and diverse gaming experience, this Latvian online casino could well be worth your time.